First Day of School is on Monday, August 26, 2019. SIS Portal is open to review your schedules.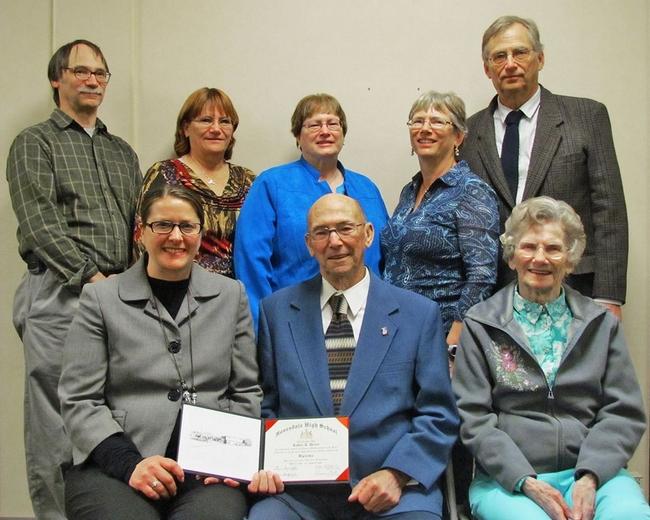 An 88-year-old Damascus Township man has received his high school diploma, 70 years after he left school to fight in World War II. Robert A. Dexter received the well-deserved, class of '46 diploma from officials of the Wayne Highlands School District.
The Navy veteran expressed appreciation for the recognition, saying that throughout the years he had missed out on not having his diploma.

"Thank you very much," a modest Dexter said after high school Principal Diane Scarfalloto turned the tassel on his mortarboard. Dexter later said, "I was really happy to be here. It was a little unexpected but I'm happy to have my diploma."
The graduate was accompanied at the ceremony at the district office by his wife Helen, their children and other family members.
"This was really fantastic," said Dexter's son Jeff, noting he frequently heard his father say over the years he wished to have a diploma.
Now he has one thanks to the district's Operation Recognition Program, started several years ago under the direction of Jim Rodda, a former principal, and Greg Frigoletto, district superintendent.
The program provides for the awarding of diplomas to honorably discharged veterans of World War II who attended Honesdale or Damascus high schools and would have graduated between 1941 and '50.
"We are very proud of the program and to honor Mr. Dexter tonight for his selfless dedication to the country," Frigoletto said.
Damascus School history teacher Pete Casazza gave visitors to the packed boardroom the graduate's notable biography, describing the harsh alteration of a teenaged Dexter's life as he went from a small Wayne County farm right into the middle of a world war.
Casazza at one point choked back tears as he talked about Dexter's life, and said the district is honored to have the veteran as an alum.

Dexter left Damascus High School in December 1944, in his junior year and just shy of his 17th birthday, to join the Navy for a four-year enlistment.
At the time, the Battle of the Atlantic was winding down, but the war was taking a toll in the Pacific.
"The early casualty projections for an invasion of Japan were beyond horrific," Casazza said.
After the war, Dexter spent time in Japan viewing bombed-out cities like Hiroshima and Nagasaki. He was assigned to Bikini Atoll, an island chain in the north Pacific where the U.S. was conducting atomic bomb testing.

Dexter later was assigned to the USS Missouri in the Caribbean.

He eventually returned to Damascus after his discharge, working at a creamery in Milanville before becoming owner a propane gas delivery company.

Dexter also spent years volunteering in the area, serving with the Damascus Ambulance Corps and helping to establish a veterans memorial at the historical society, among other accomplishments.

He also built a new home on the old farm, where he continued the same work he performed before his enlistment decades ago – tending a garden and orchards, and cutting firewood.